Bienvenue to the French Immersion Foundation!
---
MERCI BEAUCOUP!
With your amazing support, the 2021 MFIF Virtual Silent Auction: Bring Back the French Interns raised $5,435. This amount has exceeded our expectations, and we are SO GRATEFUL!
We apologize that the silent auction closed earlier than planned. In an attempt to extend the hours of the silent auction, an error occurred. We apologize if you were not able to make your final bids.
Despite this error, the 2021 MFIF SIlent Auction was a great success, and it would not have been possible without your support of this fundraiser. We are appreciative and feel honored that you chose to support French immersion education in Milwaukee Public Schools by bidding in the 2021 MFIF Silent Auction.
Congrats to those who won their bids, and we will be in contact with the winners soon to ensure that auction items are received in a timely manner.
We are excited to share with you the plans we have for bringing back the native French-speaking interns to MFIS and MSL in the 2021-2022 school year. Check this website and the MFIF Facebook page over the next few weeks for updates.
Merci beaucoup tout le monde!
Did you know that each year the Foundation brings 6-8 native French-speaking interns to work in the classrooms at Milwaukee French Immersion School (MFIS) and Milwaukee School of Languages (MSL)?
In the 2021-2022 school year, we are looking to bring 9 interns to MFIS and MSL, but we need your help to bring them back! This silent auction raises essential funds that will bring back the French Interns (who have not been at the schools for over a year due to the pandemic) who help teach, build friendships and enrich the language immersion experience of Milwaukee Public Schools students.
Last year, like many other fundraisers, our 2020 Silent Auction was canceled. We are in need of missing funds this year to help bring back the French interns to our classrooms and students for the 2021-2022 year. Help support our mission!
Merci beaucoup for your support!
---
More about the Milwaukee French Immersion Foundation
The Milwaukee French Immersion Foundation was founded by a small group of parents of students attending the Milwaukee French Immersion School and the Milwaukee School of Languages who recognized the gem we have in the city of Milwaukee of a public, urban, diverse school that outperforms schools in both the district and the state.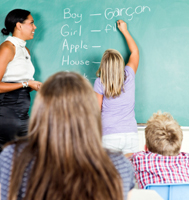 Many of us parents fell in love with the French immersion program as soon as we walked through the doors. Seeing four year olds speaking with their teachers in French is something special. First impressions are one thing, but as parents we look deeper. How exciting it was to discover that in addition to French Immersion students becoming fluent in French, French Immersion students also excel in all other subject matter, consistently outperforming their counterparts in the State.
We parents recognize that the French Immersion program in Milwaukee is something special. Others have noticed as well. For example, after visiting the Milwaukee French Immersion School, the Minneapolis Public School system introduced a public, urban French immersion program based in part on the success of Milwaukee French Immersion School.
Unfortunately, we parents also recognize that we can't sit back and rely on public funding to fund every aspect of this amazing program. As such, we founded the Milwaukee French Immersion Foundation. The Foundation exists to ensure that the French Immersion program in Milwaukee Public Schools receives the support it needs for these children to thrive and to excel. Graduates of this program are amazing examples of what can be accomplished in an urban public school when teachers, parents and students collaborate to insist on excellence.
Join us in this important effort.