Bienvenue to the French Immersion Foundation!
MERCI BEAUCOUP!
2022 Milwaukee French Immersion Foundation Silent Auction
Thank you for helping us raise $6451 to help bring back the French interns to Milwaukee French Immersion School and Milwaukee School of Languages!
We raised more than last year and more bidders were involved than last year. We are thrilled that the Foundation is growing and moving forward to be a strong support for French immersion students in Milwaukee. We have so many plans for the 2022-2023 school year, and we are so grateful for everyone who has supported us – both item donors and auction bidders – in this online auction to help set those plans in motion.
Foundation board members will be following up with all bid winners to delivery items this week and next week (May 16 – 28). If you have any questions about how to obtain your auction items, please email our board president at President@FrenchImmersionFoundation.org.

Again, MERCI BEAUCOUP!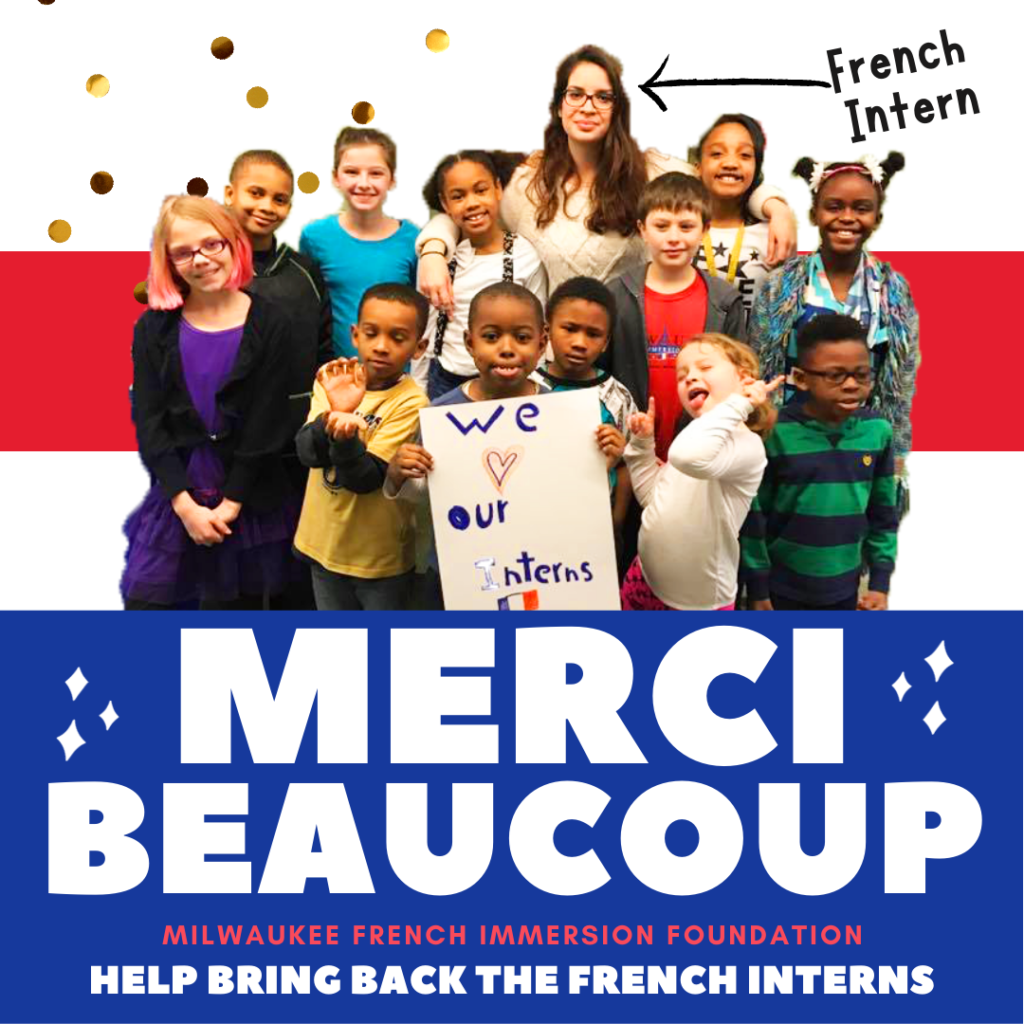 ---
More about the Milwaukee French Immersion Foundation
The Milwaukee French Immersion Foundation was founded by a small group of parents of students attending the Milwaukee French Immersion School and the Milwaukee School of Languages who recognized the gem we have in the city of Milwaukee of a public, urban, diverse school that outperforms schools in both the district and the state.
Many of us parents fell in love with the French immersion program as soon as we walked through the doors. Seeing four year olds speaking with their teachers in French is something special. First impressions are one thing, but as parents we look deeper. How exciting it was to discover that in addition to French Immersion students becoming fluent in French, French Immersion students also excel in all other subject matter, consistently outperforming their counterparts in the State.
We parents recognize that the French Immersion program in Milwaukee is something special. Others have noticed as well. For example, after visiting the Milwaukee French Immersion School, the Minneapolis Public School system introduced a public, urban French immersion program based in part on the success of Milwaukee French Immersion School.
Unfortunately, we parents also recognize that we can't sit back and rely on public funding to fund every aspect of this amazing program. As such, we founded the Milwaukee French Immersion Foundation. The Foundation exists to ensure that the French Immersion program in Milwaukee Public Schools receives the support it needs for these children to thrive and to excel. Graduates of this program are amazing examples of what can be accomplished in an urban public school when teachers, parents and students collaborate to insist on excellence.
Join us in this important effort.